Sept. 5-11, 1998 Amsterdam, Netherlands
Amsterdam – I have been so taken with this enchanting city, I'm afraid that I too, have fallen victim to its spell. I should have seen it coming. The first line, in the first paragraph, in the Amsterdam section of our Frommer's guidebook explains: "In Rotterdam they work, in The Hague they rule, but in Amsterdam they live." Well, in support of this theory, here I am, our third day in this captivating city, having ignored my 'work' and now FORCING myself to take the time to carve out a quiet moment and make a few notes. Not that I'm vying for pity.
As a 'slave' over this keyboard, Laura and I are comfortably relaxing at our small, candlelit table on the sidewalk outside one of the hundreds of Amsterdam's unpretentious little cafés. It is dusk. The city sounds that surround us, as we gaze over the canal recounting the events of the day, include the muffled voices of people at the other tables talking and laughing in a myriad of other languages, the occasional jingle of a chain guard, fender, or lock rattling on one of the many bicycles that speed by our table on the cobblestone walk, and finally, the classic marching tunes being trumpeted out by the high school band practicing their timing, notes, and regimented steps across the canal and up the block.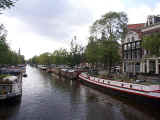 There is so much – too much – to write about this place. Of all the cities I have visited, both in the States and abroad, this one is in the lead in competing for my favor. I have, as of yet, been unable to denote why. One of my early theories was that I simply instantly felt comfortable here. Although the city of nearly ¾ of a million people has one of Europe's proudest heritages (in the 17th century, Amsterdam was the world's most prosperous port), the city and its people are neither arrogant nor contemptuous, but just the opposite. It seems that they are extremely tolerant and non-judgmental of others. As new guests in the city (often times making small social blunders, fumbling to find correct change, or pestering someone for directions) we were always met with both a kind word and smile.
Hand in hand with this friendliness, is the city's tolerance (and lenience) for alternate dress, sexual preference, public behavior, use of 'recreational stimulus', choice of 'entertainment', and so on, and so on. The city's over all feel and attitude can best be summed up as "live and let live".
Laura and I arrive mid afternoon on Saturday. We find out from our visit to the tourist information office (VVV), that this is a great time to experience the sights and sounds of the city, but a very bad time to find a place to rest your weary head after long and full day is done.
We do find a room in a large hotel on the outskirts of the city, immediately check in, dump our packs, and take the train back to Central Station to stroll the streets and take in the action.
It was basic sensory overload. Imagine, the atmosphere of the French Quarter and Times Square rolled into one. Now change the languages of each of the party-goers to anything but English, make almost anything that they choose as their vice-o-the-night completely legal, now throw the scene into a maze of small, narrow streets lined with 17th century 4-5 story elaborately façaded structures. That's the party district of Amsterdam. Don't know how much, if any, detail of our evening is appropriate here.
I can mention an Italian restaurant with about a dozen drunken singing Englishmen; a little hole in the wall dive bar with a very friendly (and tanked) Dutch truck driver and his father; and a 63 year old (had worked there for 30 of those years) barmaid that didn't look a day over 40 who could probably hop over the bar and toss you out on the street as fast as you could say "Heineken Dark".
The next few days were a blur of one scenic city street after another. Amsterdam was indeed a 'big' city complete with all of the constant buzz of activity practically around the clock. Each and every street was lined with 300-400 year old buildings. We walked, we rode the tram, we walked some more. I'm convinced that we must have covered almost every kilometer of the old city of Amsterdam. A few of the highlights include, in no particular order: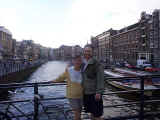 Centraal Station, probably the most stunning example of a public transportation station in the world. St. Nicholaaskerk (St. Nicholas' Church – that's right, this is Santa's entry point to the city at the beginning of each Christmas season. The sex museum (yes, it's just like a real museum only with a somewhat interesting, and somewhat, excuse the expression, 'touchy' subject matter). The infamous red-light district where anything and everything goes, and most of it is legal. The name comes from store-front type windows lined with red tubes of light. Inside, the 'merchandise'. Working girls of every shape, color, and size. The Waag (Weigh House) on Niewmarket Square. Constructed in 1488 to serve as a city gate, it has since served as fire station, weigh house, and a teaching hospital. It is here that Rembrandt observed classes before painting The Anatomy Lesson.
In between our informal sightseeing excursions, we twice dropped into an Internet Café to check our mail (unfortunately, of the 12 or so adapters I bought, none worked in the Netherlands, so we 'had' to check out this cafe). This place, as well as the other coffee shops, gave a new meaning to the phrase 'second-hand smoke', whew!!
Back to our exploring, we also took in the Schreierstoren, sometimes called the Weeping Tower, or Tower of Tears. It is from this tower that Henry Hudson left to discover that famous river named after him. You guessed it – The Hudson river (and of course New Amsterdam, today known as New York City).

Our canal bike ride gave us a great shot at Westerkerk (West Church), Amsterdam's tallest, and in my opinion, most handsome tower. This was also the source of serenades by some 47 bells in its tower. Our hotel, Hotel Groote, was nearby, so we had the pleasure of being able to set our watches to these merry tunes each half hour, every half hour. We found ourselves many times in Dam Square strolling past the Koninklijk Paleis (Royal Palace). This huge hall has an interesting history. Built as a town hall in 1655, it was converted into a private residence (the whole thing) by none other than Louis Bonaparte, yes, Napoleon's brother. He lived here as King of Holland, until word of unrest made him decide to 'get outta' town' in 1810.
The Munttoren (Mint Tower), overlooking the floating flower garden, also chimes out tunes every half hour. In 1672, the building was used to mint money (the Dutch were at war at the time, and had their money supply cut-off) and the name stuck ever since.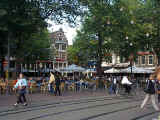 Rembrandtsplein and Leidseplein were two of Amsterdam's most popular and hippest hangouts. Bars, restaurants, and of course coffee shops offer refreshment inside, or out. Choosing a table outside will often include a show by jugglers, mimes, or musicians. One particular night, Laura and I were milling around and were drawn in by a fellow playing an instrument he designed himself called a Dulcimer. We had a brief chance to chat with Lindsay Buckland (see an interview in "In Their Words" soon) about his travels, before a sudden Amsterdam downpour sent us our separate ways.