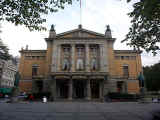 Sept. 17-21, 1998 Oslo, Norway
Last night marked yet another of many 'firsts' in our travels. We took an overnight train from Copenhagen to Oslo. If you've never had the pleasure of trying to catch a few winks (very few) in a bunk of a train car, you should at least once (and possibly only once) give this combination of transport and lodging a try. We thought such a trip would be fun, even a bit romantic (i.e. Risky Business for you Tom Cruise fans).
It wasn't exactly what we had in mind. Picture a 5x6 compartment with 3 bunks on each side, a total of six. Now imagine bunk mates, certainly pleasant for casual conversation, but not for slumber. We may have been paranoid, or just careful (being so new to travel, it's hard to know the difference), but we slept with fully dressed with our money belts on and our other valuables strapped to us. I'm not sure which was bumpier, the ride itself; or the two cameras, laptop, power plugs and converter that I kept rolling over on top of. In all fairness to this form of travel, I think most other overnight trains are a little more smooth and quiet. We discovered around mid-trip (about 3:00 a.m. when the customs officers came through with a host of questions and some VERY bright flashlights), that the first part of the trip was so rocky and so noisy because they loaded the train cars onto a ferry for the trip across the bay. Yes, a ferry. A train on a ferry -those crazy Danes!
Early the next morning, we stop and regroup in the Oslo station. A short tram ride through the city brings us to what would be the highlight of our stay – the distinctively delightful home and hospitality of Mr. Marius Meisfjord. The magical part of travel is the little pockets of pleasure derived from a memorable place, event, or in this case, person you encounter when you least expect it. In Oslo, it was our host that brought us that magic.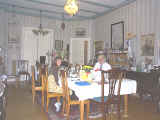 Marius is a friendly, open, and warm retired professor who occupies his time with, and supplements his pension by, renting rooms in his first floor flat. Although a rather large flat, it is anything but spacious. It seems that Marius is fond of collecting not only memories, but also things. Enough furniture and fixtures to appoint a castle, stuffed into a central city flat. A stay in his home is much like a mini-vacation inside a museum. It is a world all its own - for each piece, whether a table, chair, picture, or plate - has a story as unique as its setting. Ahh, if only there was time to hear all, half, or even a quarter of the stories. It would be a lifetime worth of education.
Even more fascinating than this museum, is the 'curator', our landlord. Marius himself is quite a sight. Curly gray locks with a beard and bushy eyebrows to match. These encircle his icy blue eyes, pudgy nose, and warm, almost constant smile. Although not as physically nimble as in days past, his mind is still at least twice as quick as most at half his age.
Instantly at ease himself, you can't help but to also feel this way in his company. His English is an interesting mix of a large vocabulary with accurate grammar, coated with a heavy syrup of Norwegian accent. It takes a little time and concentration, but eventually you learn not only to understand Marius, but also appreciate the slight, clever, and dry humor he tosses into almost every response. A laugh or chuckle from you signaling your understanding of his wit, will undoubtedly encourage him for more and cause his eyes to twinkle with satisfaction. Within a few short hours of sharing his warm and inviting home, the temptation to adopt Marius as an honorary grandfather or eccentric uncle is all but impossible to resist.
Our departure Monday morning was a difficult one. Our new friend walked us out to the street, gave Laura the traditional 3 kisses on the cheek, gave me a half hug and one of those firm, understanding with no-need-to-speak handshakes, and sent us on our way with an open invitation to return, and a lingering wave goodbye. May Marius have many more years of spreading joy and goodwill among travelers lucky enough to choose his as their home away from home in Olso. And may you, if ever in this Norwegian city, call 22.55.38.46 to find Marius' Museum has an open room, soft pillow, and welcoming host for your stay.