Sept 25-27 Helsinki, Finland
"Well, you're gonna break my heart, my achy–breaky heart,
And I just don't think he'll understand.
'Cause if you break my heart, my achy-breaky heart"
These are probably the last lyrics in the world that I thought I would hear in the bar/lounge of a multi-ton ferry crossing the Baltic Sea from Stockholm to Helsinki. But there it was, not quite the same as the original that they play 'back home', but not bad for a musician that probably didn't even know what the words meant, only how to make the sounds along with the music. He even imitated that country twang as best he could. Every once in a while, if you listened closely, you could tell that he had little idea of what he was singing.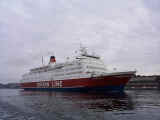 He only knew that this was a popular tune with the passengers and if he made the sounds close enough, they probably wouldn't know the difference. It seems that young Finish men were especially fond of this tune. A group of them, after being turned down by a few different prospects of the female persuasion, began cuttin' the rug by themselves. Their dance was certainly uniquely Finish. Sort of a cross between hopping and twisting their feet at the same time.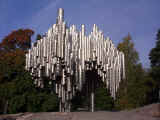 Laura and I found this amusing scenario to be fairly representative of Helsinki, and from what we could tell, Finland as well. With a few important exceptions such as landscape art and poetry, Helsinki has little to call its own. Its warm and very friendly people have been part of so many different empires, territories, and countries, that they sometimes struggle to find things to lend them their own identity. More often than not, they easily adopt things from others, change it slightly, and make it their own.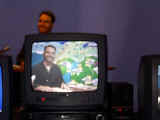 Since becoming the capital of the independent Republic of Finland in 1917, this city of 500,000 inhabitants has won over the respect of the international community for its emphasis on high tech, research, and advanced education. A prime example of this is the city's dedication to its museums and exhibitions such as the Museum of Applied Arts.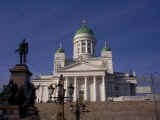 Our first morning, and I do mean morning, we arrived at 7:30 or so, was spent looking for a hotel and then doing a little sight-seeing. One of the biggest attractions of Helsinki is the Cathedral of the same name. Completed in 1852, and currently being remodeled, its brilliantly white façade is simply magnificent in the full sunlight.

A short walk up the street, and we make it to Uspensky Cathedral, the biggest Orthodox church in all of Scandinavia.
Mid morning of both this, as well as the next day, was spent in the outdoor market by in the harbor. Lined with stands offering fur hats and gloves, to cooked as well as fresh fish, and everything in between, the market made a great venue for people watching and taking in the local culture.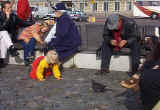 We also took the ferry over to the zoo, although I have to admit, it was totally by mistake. Laura got us on the wrong boat (there were only 2 – we had a fifty-fifty chance) on our way to the Suomenlinna Sea Fortress.
The highlight of this part of the trip, however, was most definitely the trip to the sauna. It seems that the Finish take a sauna before and after doing most anything. They have these wonderful little rooms built into their clubs, homes, and even workplaces. Well, Laura was bound and determined that we were going to partake in this long-time Finish ritual. She managed to find, strictly by luck, one of the oldest and most colorful sauna in the entire city. This sauna was very much off the beaten path, so much so, in fact that none of those who worked there spoke any English. Undaunted, we found an easy solution in having the desk clerk from our hotel call to arrange services and an appointment time.
A few quick stops on the metro and we began searching for the little hole in the wall. A friendly local took pity on our looks of confusion, and lead around the corner and up the hill to the front door. Once inside, we said hello and tried to chat. The manager called into the locker room, and a young man clad only in a towel appeared in the lobby to translate for us. Laura was to be first with her massage. I was free to go in and enjoy the sauna until my turn came, almost 30 minutes later. The young man who spoke English then showed me the empty lockers, pointed in the direction of the sauna room, and asked how in the world we managed to find this place. I explained to him the best I could, Laura's sixth sense for discovering places like this one. He just shrugged and smiled. Apparently they weren't accustomed to tourist being there, but hey were open and friendly to us nonetheless. I undressed by my locker, and pretty much played follow-the-leader from there. First a rinse in the shower. Then fill a pail with water and the into the sauna room I go. The concrete room was about 40 x 40 feet, and about 20 feet high with two walls of 4-5 levels of 2 foot high stairs leading to the top level topped with thin wooden planks. In one corner was a gigantic furnace pumping out heat from the huge pile of lava hot rocks inside. I made my way up the stairs, pail in hand, to the very top. There I took a seat without making so much as any eye contact with the half-dozen or so other naked men sitting around me. They would engage in casual conversation (in Finish, of course). One of them would occasionally beat himself against the chest and back with a handful of leaves made in to a type of fan shape. Every now and again one of them would walk down, or come in and they would shout to him to turn the knob on the furnace for more steam.
Man, it was hot in there. I mean HOT. Not a nice dry heat, but a sloppy wet, cut it with a knife, don't breath in to fast, can't touch your hair because it'll burn your fingers, HOT. It is then that I discovered the utility of the pail full of water – survival, pure and simple. The idea was to splash yourself with it, I'm assuming to avoid self-combustion. Ten minutes or so of this and I was finished, no pun intended. I made my way back into the locker room. All of the men were seated at picnic tables chatting and drinking. I spotted the only person I knew, and walked over to start a conversation. He invited me to join them and so I did. No sooner did I discover that this sauna was one of the oldest (celebrating 75 years this year) in the city, and my new friend was visiting from Moscow and could give me some good pointers wit our next stop, did they come in looking for me to give me my massage. The next 30 minutes were spent having the battle scars of carrying a 60+ pound backpack around for a month, ground from my back. My mind drifted as I began to contemplate how great it was that I was to be where I was, doing what I was doing, and experiencing what I was experiencing.