Oct. 8-10, 1998 Ankara/Cappadocia, Turkey
We wake in Ankara to a beautiful day of bright sunshine. Rhea, our guide, tells us that everyday has sunshine in Turkey. Even when it snows, the sun comes out to bathe the earth. The sun is certainly shinning on us for the next two days. It seems that we have a private car, driver, and guide. Our first stop is the Museum of Anatolian. Museum in Turkey has a whole new meaning. To these folks, old isn't a few hundred years, it's a few thousand. The museum houses artifacts from 2,300,000 (count 'em 0's) B.C., up to 500 B.C! Next stop: Anit Kabir – the mausoleum of Kemal Ataturk, founder of the 75 year old Turkish Republic. We hop in the van at about noon for a three hour drive to our next destination. As we travel by Hyunda minivan to Cappadocia, the flat, open road stretches out in front of us. Sprawling, farmland forever. On either side of us there are rolling hills for as far as the eye can see.

And speaking of eyes, we notice that they are everywhere in Turkey. Pictures, sculptures, paintings. In gift shops. On the back of autos. On the tailgates of trucks. Hanging from doorways. Eyes everywhere, and they're all blue ones. Rhea explains to us that these are symbols intended to ward off evil. It seems that in the early days, people with blue eyes were rare and unfamiliar, and thus were considered evil. Couple that with the fact that the Turks believe that feelings and emotion toward others are sent through the eyes, and the result is the blue eye icon. The icon comes in all shapes and forms and is sometimes surrounded with glass or reflective metal. The eye, placed facing outwards, wards off and reflects evil coming its way. Long story short - the next time someone mentions getting 'the evil eye', you'll have the opportunity to amaze them with this tale of its origin.
As the sun sets, we pull into our temporary home for the next two days – The Kapadokya Lodge Country Club. This striking four star resort was designed to mimic, and as such, be a complimentary part, of its surroundings. The lodge's sand and light pink colored walls glow warmly in the light of the setting sun. I really have to hand it to Laura on this one, she set us up first class. A very restful night flows easily into the next morning, as we greet our guide and driver for a full day of adventure and entertainment courtesy of Mother Nature.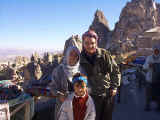 To explain, it seems that about 3 million years ago all three of the area's volcanoes got together, decided stage a little protest, and proceeded to collectively 'blow their tops'. In so doing, tons of volcanic rock and ash covered the land. Packed down by rainfall, the ash formed a very porous rock that is relatively easily eroded over time. This type of rock is known as tuff. And, if by some chance, more solid material, or even boulders were, at one time above this porous layer, the thousands of years of rainfall would erode the tuff around these boulders, thus forming either large clusters, or individual chimneys of tuff.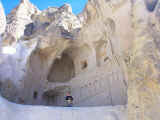 These formations proved to be exceptional foundations for the ever-enterprising early inhabitants of this bizarre, dream-like land, to carve-out what seem to be ancient predecessors to the modern day high-rise condominium. Many of these structures were hewn out by early Christians before the invasion of the Arabs in the territory. One such area is in the Goreme Valley. As you can imagine, its not quite the same after these thousands of years, but some of the fromer glory still remains of this village in the sky.

There are a total of six churches, some with their walls and ceilings covered with very impressive frescos. (sorry, no pictures, a tourist next to us took one and immediately the guards demanded his film – or fifty dollars, we decided not to chance it). Each has a main room and small alter area with archways in the ceilings, and alters and other tables carved out of the stone on the floors. St. Basil (the founder) also had a nunnery (with SIX floors), as well as a monastery built on the site.
This indescribably beautiful and intoxicatingly interesting land known as Capadocia is also home to other rock villages such as Zelve, Pasabag, Urgup, and my personal favorite Uchisar.
As a matter of fact, Uchisar became the scene of a little scolding from of tour guide, Rhea. It just so happened that when we arrived in this small hamlet area, Rhea darted off to greet some friends from the village. She made the mistake of doing so BEFORE telling us that this was to be only a picture stop – and NOT an opportunity to explore. Well, those of you who know me probably won't be surprised when I explain that after about 10 minutes of being unsupervised, I convinced Laura that it was O.K., and for that matter even intended, for us to hike up the path and then up the cracks and crevases of the rock-blocks to the very top, of course exploring each of the little rooms that we could reach along the way.
This, apparently, was not in Rhea's agenda, for, when an hour (or so) later we came bounding down the path to the bus, she stood waiting in classic 'female that's mad-as-a-hornet' stance. We all know it well, and yes, it is Universal. Face in a scowl, hands on the hips, one foot slightly in front of the other, rapidly tapping the ground. She proceeded to let me have it, and I just stood there patiently and simply listened. My lack of reaction seemed to upset her even more, until, at last, she got so frustrated that she just stopped yelling and abruptly turned to back down the hill toward the bus. Oh well, all in a day's work of this traveling stuff.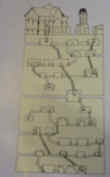 The following day (after making up with Rhea) our schedule dictated a day rather opposite from the one before. Instead of climbing up into houses and chapels chiseled from cliffs and pyramids of stone, we were about to crouch down and crawl into five levels of the UNDERGROUND city of Kaymakli. It may not be the same for those of the female persuasion, but for a male of any age, climbing around in an underground maze of little rooms, passageways, and tunnels is the ULTIMATE in playing 'fort'. It was obvious that I was beside myself with fascination, as Laura and Rhea constantly had to wait for me to catch up to them after taking little side trips into almost every room (including, amongst others, bedrooms, a church, meeting hall, and storage rooms) off of the planned pathway that they were following.
One of the most amusing moments of the morning came when, while bent over as to waddle our way down a 3.5 foot high, 2 foot wide, and 25 foot long passageway down to the next level (at a 35 degree angle), the used AA batteries, two sets of four, that I had in my coat pockets escaped from their nest and jumped to freedom on the ramped floor of the passage. I was at the top of the corridor as all eight of the batteries rolled bumpily along in a mini-avalanche creating a unique (and quite loud) chorus of little metallic clinks along the way.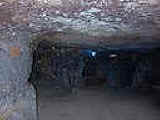 After initially freezing in horror, I quickly recovered my wits and yelled to Laura to "sit down, quick!". By this time she realized that there was a heard of Energizers happily bouncing their way towards her. She plopped down on her hind quarters and put her hands down beside her to block their path and capture the little delinquents. My guess is that it has been hundreds of years since the cavernous rooms of this subterranean city were filled with roars of laughter, but on this day, in October of 1998, I simply couldn't help myself.