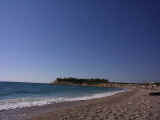 Oct. 20-23 & 30-31, 1998 Athens, Greece
Here we are, rush hour on a Friday afternoon in Athens. Well, at least 'technically' we're in Athens. Mentally, I seem to be a million miles away from the insanity of the big city as I sit out on the balcony of our hotel room, Libretto in lap, beer in hand, empty bag of Oregano (yes, oregano, and boy they're tasty) potato chips blowing around at my feet. As I watch the sun set gracefully over the mountain rimmed Agean Sea, I'm gratefully cognizant that, rather than straining to decide on the fastest alternate to take on my drive home from the office (as to avoid the accident and evident backup on the interstate), my most difficult decision is that of whether I should light up the little Cuban treat I bought earlier for myself now, or wait and save it for 'desert' after our shish kabob dinner tonight.
As my fortune would have it, rather than spending these two days in downtown Athens, Laura has instead, booked us in a coastal suburb of town, Glyfada. As usual, she has made an excellent call. The beach is within driving range (with a Five Wood from the rooftop pool bar, that is), and the air is much fresher than high above Stadiou Avenue, one of the main streets in Athens.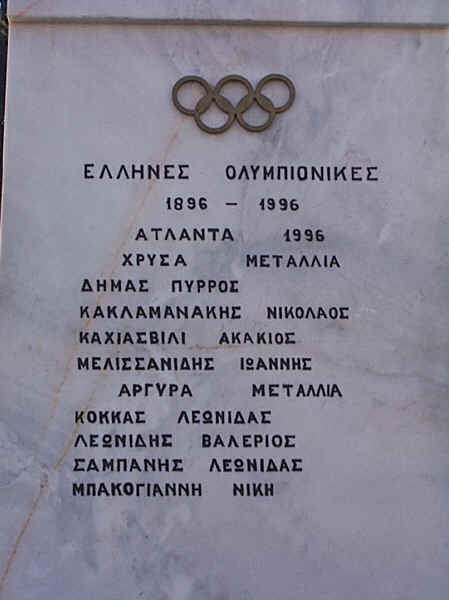 That's right, for the three days prior, and the one day following our visits to the Cyclades Islands, we slept (or should I say, tried to sleep) right in the middle of all the action. Both of our hotels were very convenient to all that Athens Proper has to offer in terms of sights, shopping, dining, etc. Unfortunately, they were just as inconvenient for doing so much as hearing yourself think. On the positive side, our experience downtown absolutely exemplified everything we had heard about the city. My description takes only two words "intense insanity". Athens is sophisticated, it is hip, it is metropolitan. It is also (like most other large cities), entirely out of control.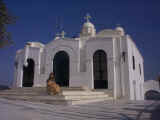 As example, each one-way, four lane, 'main drag', is in actuality, made up of ten lanes. To explain, the major streets have four marked lanes. These are outlined with white lines on the asphalt (which seem to serve as loose suggestions at best), for cars, trucks, and busses. The remaining six are impromptu, yet constantly utilized, 'no, you look out, here I come' zigzag shortcuts - in short, time savers, for the hundreds-of-thousands of Kamikaze scooter jockeys and motorcyclists who, for the most part, successfully defy both death and gridlock in their daily commute through town. So, let's count together. On each major avenue, there are four lanes which are marked, as well as three 'rip-the-side-mirrors-off, who-needs-em-anyway' alley-ways in between these, giving us seven total. Add another lane on each side of the street, and last but not least, throw in number ten - the one right there on the sidewalk. That's right, it seems that Athens' law completely bends for those who show no fear. For it is those on motorized two wheels (not two feet) make the rules of the road (and the sidewalk) in this town.
As it would happen, I found out how important a distinction this was, as I foolishly spent the day looking both ways while crossing a sidewalk, but only one way while crossing a one-way street. To recall, it was a beautiful sunny afternoon. The only thing I saw was a blur, as a very strong rush suddenly caused the part in my hair to go from the right side of my head, to the left. My right foot was brushed back in mid stride. Then apparently, as I instinctively looked left, the culprit sped (probably without a second thought) to my right. For by the time I had realized what had happened and looked about, all that I saw was both Laura and Jon starring at me, mouth open, frozen in pose, and glad I was still among the living. No motorcyclist in sight. Close call!! And lesson learned!!
Yet, despite all of its insanity, the madness of Athens is well worth throwing yourself undeviatingly and directly into the middle of. Lest we forget, that the city is, after all, one of the few cradles of modern civilization. Sadly, the turbulent history of the city has left little of its far past either intact, or openly accessible, for us to study and appreciate. A thankful exception to this is the city's most famous landmark, the Parthenon atop the Acropolis.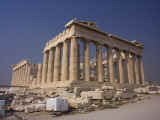 Visible from almost the entire city center, this glowing marble monument to the early the Greek civilization's extraordinary skill in architecture and engineering is almost impossible to comprehend. From its magnificent columns, each with a more significant, but still ever so slight bend, to counteract the distortion of 'straight' lines from a distance; to its barely noticeable widening of sun-facing cross sections, to dilute the impression of brightly reflective surfaces seeming smaller in dimension than they actually are, this early living example to modern day architects is, by no surprise, still considered to be one of the most magnificent and architecturally perfect buildings ever constructed.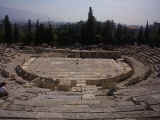 Add to that list the Theater of Dionyssos (the first theater in the world), the Olympic Stadium, the National Garden, the flea market, and the wealth of small shops and restaurants in the old town, or Plaka, and you have a rather complete, if not superficial, whirl-wind tour of this famous city.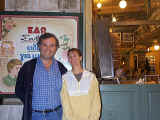 The other 'musts' of Athens are the city's restaurants. Ranging from quite literally, hole-in-the-wall kebob counters, to the fancy-dancy five star see-and-be-seen for Athens' well to do, it is not only the cuisine, but also the colorful restaurateurs that make the eateries of Athens such a treat. It may be my imagination, but it sure seems that at least once a day, for each day of our stay, Laura tells me me that she would be happy to move here just so that she could enjoy those wonderful Greek salads she loves so much for breakfast, lunch, and dinner.