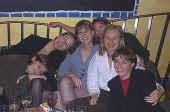 Nov. 12-14, 1998 London, England
It's 6:00 p.m. on Friday the 13th. So far, nothing but good luck from our day here in London. Not being the superstitious type, I look forward to further good fortune as we head north for a late happy hour in Oxford Circus with a few new friends that we met on our Greek Isles cruise.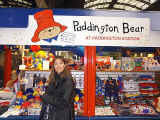 For now, Laura and I have ducked into a little coffee shop in Soho, just north of Piccadilly Circus (and at rush hour on Friday afternoon, it's just that, a CIRCUS), for two Mocha pick-me-ups. A shot of caffeine should serve us well - for we've had quite the day. Since we'll be hopping the rail to meet another new friend in Bath early afternoon on Saturday, our stay in London has been short one.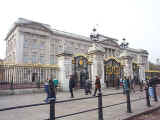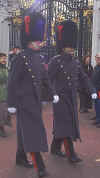 We, of course, wanted to make the most of our day and a half here, so we've blitzed through on a whirlwind tour of the city. We begin our day at probably the most famous of London's Underground hubs, that of Paddington Station. We walk from the station to what has to be one of the absolutely categorical tourist attractions in all of England, that of the changing of the guard at Buckingham Palace.
From this pomp and circumstance, we retreat to the natural beauty of St. James Park. We share the green of the park, and the blue of the lake, with all forms of wildlife including squirrels, pigeons, ducks, black swans, and a host of other species of birds.

'Round the corner and down the way, we check visits to Big Ben, the House of Parliament, and Westminster Abbey from our list of London sights. It's only early afternoon and we're already well on our way getting most of the 'must sees' of this historic (and hectic) city under our belt.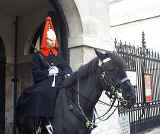 Our next pause in the madness is to stop and playfully try to divert the attention of the mounted Queen's Lifeguard. No luck. It is obvious that these soldiers (and their horses) have plenty of training and practice in exercising the utmost of patience in dealing with pesky and distracting tourists. Yes, at least for today, I include myself in this classification.

After lunch, we head to Trafalgar Square to climb all over the huge brass lions and play with the thousands of pigeons that eagerly greet anyone who steps foot into 'their' territory. The sun begins to set, so we race, as fast as we can, to grab a few shots of the Tower Bridge before darkness sets in.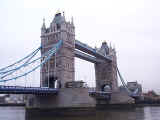 We hop on one of London's famous bright red double-decker buses (and yes, we climb straight to the top deck) on its way to St. Paul's Cathedral. As luck would have it, we arrive just in time for the evensong service. We quietly take our seats in the pews to hear the red and white robed church's choir sing praises to the Lord on high. Their full, ringing voices fill every square inch of the voluminous (and very acoustical) chapel.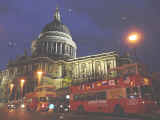 Their rejoicing prompts me to slow down, take a deep breath, and reflect to give thanks of my own. To give thanks in my fortune of simply being here, able to travel thousands of miles from home, to be just barely into a full year adventure. Above all, being able experience all of this magnificence first hand.