Mar. 11-17, 1999 Agra, Khajuraho, and Varanasi, India
Agra
I'd seen its image in hundreds of photographs, paintings, and the like. Shamelessly adorning countless brochures, postcards, books, maps, and restaurant menus - anything remotely related to India. It was the Taj Mahal. Self-proclaimed as "the most beautiful building in the world", it had a Shah sized image and reputation to live up to. And although I'm probably somewhat jaded from our last seven months of 'monument spotting', I must say, I wasn't disappointed.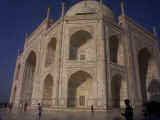 The moment we pop through the entranceway and get our first, full glimpse of the magnificent structure, I'm simply stunned with its heart-wrenching splendor and elegance. The Taj seems to hold a magnificent, sensual beauty that's nearly impossible to describe in mere words, although I'm not the first to try. The poet Rabindranath Tagore described the Taj as "tear that would hang on the cheek of time". Well, I don't know about all that, but the huge onion-shaped white marble domes, perched atop the huge blocks of the pure white marble, meticulously and painstakingly inlaid with millions of tiny precious and semi-precious stones, truly make for a sight that's as wonderful and amazing as anything else I've ever seen. What an incredible work of art. Our guide book tells us that 20,000 people worked continuously for 21 years on the construction of this magnificent monument. In total man hours that's - let's see, 365 times 20,000, about 7,300,000; times 20 years . . . "Excuse me, photo please?"
"What?"
"Photo please?" they repeat, this time in unison.
"Sure" I reply to the three twenty-something Indian men smiling at us, insta-matics in hand.
Actually, they're much more interested in Laura's picture than mine. And at this point, I'm almost accustomed to it. For at every temple, every monument, and for that matter every fort that we visit, we're asked to pose for at least as many photos as we take ourselves. Both Indian tourists and locals alike, families, young single men, even groups of school children - all anxious to capture our peculiar image on film, with them, to show friends and family at home. It seems that the sight of us is as much a novelty to them, as the scenes and sounds of their unfamiliar land is to us. And, as 'those funny Americans', what else can we do to help spread goodwill and friendliness throughout this exotic land; but return a smile, strike a pose, and cheerfully say "cheese!!".
Khajuraho


We stand still and rigidly upright, our hands clasped tightly behind our backs. Laura and I are two of a circle of twenty or so others, all standing silently together and side-by-side, our heels backed along the rim of a six foot high, elevated circular stone platform. Rising in front of us, from the center of our circle, is a mammoth sacred column of solid stone. Suddenly, the somber silence is broken by dueling gong-strikers, one on either side of the intimate temple area, crushing their small mallets into their hand-held gongs in an alternating, rapid, and ear-piercing beat. Bing, bong, bing, bong, bing, bong. Everyone around us begins chanting, gradually raising the volume in the tiny, dome shaped temple to a near deafening level.
The village priest then joins his chorus of worshipers, and leading by example, is the first to step in and pay homage and respect to the sacred pillar. The gong ringing and chanting continues for another 20 minutes or so, as each lauder (with what felt like the very obvious exception of Laura and I) takes a small step forward, leans down, and makes a small mental offering finished with a gentle touch, to the holy monolith. As the ceremony ends, we respectfully follow the others for the few steps around the circle and towards the side door, stopping briefly before the priest for a blessing of good luck and a dot of red dye on our foreheads.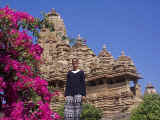 The rare and unusual opportunity to be an outsider witnessing this daily Hindu temple service, turned out to be a wonderfully unique (and punctuated) conclusion to our two day visit in Khajuraho, one of north India's most sacred, yet mysterious villages. The center of the village's being, as well as the attraction for most of the village's tourists, are the groupings of impressive, yet quite unusual temples surrounding it.
Carved from pink sandstone, these fine examples of medieval Indian temple architecture are impressive enough from their mere presence. But what makes them so unique, are the intricately carved erotic images that adorn the majority of their outside, and some of their inside walls. Religious scholars and art historians alike remain baffled to this day as to why these images were carved into such holy walls. It all makes me think that maybe, just maybe, some things are better left unexplained, but simply enjoyed.
Varanasi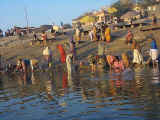 "Is that what I think it is? No, no, no . . . it can't be!" That's my stammering reaction to first seeing an image that I'm certain is, now and forever, vividly etched into my eternal memory. I'm utterly positive that merely closing my eyes will always recall the outline of the head and feet of a crispy, charred, human form, stretched out across a red-hot pile of burning logs, the fingers of the scorching, six feet tall orange flames flicking wisps of gray smoke and ash high into the air.
I look around at the five or six other fires, each in various stages of the three hour cremation ritual, and spot one that has died down. The eldest son of the deceased gathers the ashes, as well as any unburned bones, and scatters them into the waters of the holy Ganga River. They're tossed into the flowing current, aside the whole bodies of sacred cows and people (either holy men, or those who've died via snake bite are launched into the passing flow intact).
This is life, and death, in Varanasi, a city held in the highest of holy regard by both Hindus and Buddhists. A city so holy in fact, that Hindus believe anyone dying here is guaranteed 'moksha', or liberation from the cycle of death and rebirth. It's this, the inhabitant's 'what the heck, we're here for the last time' attitude and lifestyle, that manifests itself as a chaotic, tangled, filthy mess of a city, arguably one of the grimiest in the world.
If we look past the gutters on each side of the streets, acting as open sewers and floating with stagnating pools of waste and excrement; possibly see beyond the fly covered food garbage and other refuse, scattered over any flat surface that it happens to land upon. Perhaps if we can forget about the clouds of dust covering our every inch of being, including the backs of our ticklish and very dry throats; and simply ignore the smells of car exhaust mixed with both freshly dropped, as well as freshly burned, animal feces. Then just maybe, just maybe, if we squint our eyes and release our imaginations, we too will begin to see glimpses of what the hundreds of thousands of faith-filled pilgrims travel miles and miles to experience - a peaceful, holy cosmic center, filled with images of the living and the dead, the mortals and the gods.