Mar. 31-Apr. 4, 1999 Northern Bali, Indonesia
"O.K. hotel close to beach right?"
"No, hotel ON beach, O.K."
"Right, hotel near beach"
"No, hotel ON THE BEACH!" we say in unison.
"'Like open room door and see the ocean' on the beach, O.K.?" I add.
"O.K., but expensive. Maybe 50,000, even 60,000 each night." our driver points out.
"If on beach, 60,000 is no problem."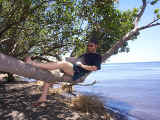 That's how we found our little tropical hideaway on Lovina Beach. It's certainly not the Ritz Carlton, or the Four Seasons, but with a cute little porch, it's own bath (no heated water), and a view from our bed of the black sand beach and clear blue surf, at 50,000 rupees a night (about $5.75 USD including breakfast), it seems like a pretty fair deal. Lovina Beach is on the northern side of Indonesia's island of Bali. The few hours ride over and through the rice field terraced volcanic mountains in the island's center, rewards us with a beautiful tropical paradise that seems not hours, but years away from the activity and hullabaloo of Bali's main tourist areas.

In fact, there's so few other tourists, that we're the only ones in the large, open air restaurant that we've chosen for lunch. We're sitting here as still as possible, (waiting for our fresh squeezed lime juice) and still the beads of sweat form and roll down our backs like we're running a marathon. The heat holds the day's mid afternoon moisture thick in the air. Then I feel it - a quick, gentle breeze of slightly cooler air passes over us. Seconds later - pop . . . . pop . . pop . . . . pop, pop, pop . . . pop, pop, pop, pop, pop on the clay tiled roof. The heavens open up. The wetness hanging in the air consolidates into huge raindrops that fall heavily to the earth.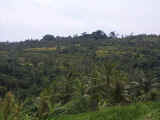 We gaze out over the surrounding fields. The sun continues to shine over the stretches of banana and palm leaves, gently bouncing up and down as they're pelted by the rain. All that is green and growing is nourished for another day. The frogs, scattered around us, begin to sing to each another as each of their little puddles are again filled anew. There is cool, life giving rain. Life is thus good on Lovina Beach.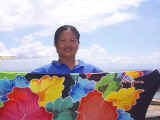 "Heeloooo!! Where you come from? How many days in Bali? You want maaaassage? For you, good price. Not many customers today, so give you special price. For good luck you get massage, O.K.?." She was just one of the handful of local part time vendors that passes us by, hawking their wares while walking the beach.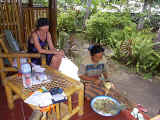 Shell and wood necklaces, ebony dolphins, watches, hundreds and hundreds of sarongs in every design and color, even full-body massages right there on the sand. We pass on all the jewelry and wooden figurines, but do cave in to the lady offering fresh pineapple. She smiles, comes over, sits down on our stoop and carves up the dripingly sweet fruit right before us. "Delicious, thank you" I offer as I wipe off my chin and hand her 3,000 rupees (or about $.34) for our afternoon treat.
"So we can watch the dolphins and fish at the same time? Well O.K., tomorrow at 6:00 in the morning. See you then."
"G' morning!!" he sings cheerfully as we climb clumsily into his hand carved, hollowed out, Jakung (outrigger canoe).
"Good morning" I answer back with as much gayety as I can muster for this time in the morning.
Within minutes, we're out chasing dolphins. Mohammed sits on a little platform at the back of the craft, minding the long motor shaft with one foot, while skillfully steering the rudder with the other.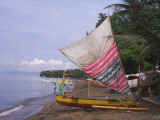 "Look, o'er dare" he says as he swings our long Jakung back around. And there they are, a whole pod of dolphins, happily bobbing up and down as they glide through the water. We see another pod. Then another. Then another. "Dolphin smart, swim w' tuna, 'dey watch 'dem to see where little fish are" he explains, preparing us for our fishing time. A bit later we drop our trolling lines (nothing fancy, just a lure on some line "wrapped 'round an ol' wooden spool") into the sea and start a 'yankin'. 'Yankin' describes the back and forth swinging motion of your arm alongside the boat while trolling for tuna.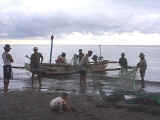 The motion causes the line wrapped around your hand to tug, then let drift, your lure, hopefully giving the illusion of a swimming fish at the end of your line. Well, I try to imitate Mohammed and the rest of the fishermen as closely as I can, but all I catch is the beginnings of a cramp in my shoulder. Fortunately though, Mohammed has much better luck, and hauls in two respectable sized tuna. Either out of generosity, pity, or both, he gives the bigger of the two fish to us. We have it cooked up for our lunch, and in turn continue the string of generosity by giving what's left of the fish (a little over half) to the cook's family.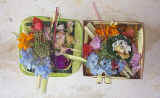 In Agama Hindu-Dharma, Bali's predominate religion, kindness towards others is known as 'menolong', and is believed to bring, through 'karma phala' (the fruition of one's deeds) good fortune, or 'membericatic' to the giver. And from what I've been able to gather from the locals, one can never have too much in the 'membericatic' bank.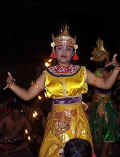 This is but one of hundreds of examples of how religion so tightly integrated into daily life, that it would be impossible to separate the two. Signs of this are everywhere. For instance, it's nearly impossible to venture for than a few yards in any given direction without accidentally stepping on one of the millions of 'canang' (daily offering baskets), or bumping into one of Bali's 100,000+ temples. It's almost as difficult to avoid a wayang wong performance, the true function of which is said to be the entertainment of the gods.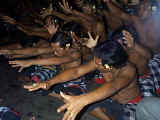 Well, I can't speak for the gods, but we mere mortals find the Barong and Rangda, Kecak, and Fire Dances extremely entertaining, especially from our great seats (we're so close, that two of the seated chanters lean back against my knees for most of the dance). Sitting here enjoying the show, I have to wonder if our arriving just in time to grab the last two front seats is simply random timing, or 'membericatic' coming back to us?