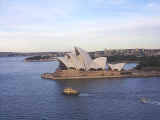 May 28 - June 6, 1999 Sydney to Adelade, Australia
Sydney
It'd be great to say that we carefully picked the city described as 'Australia's premier' to be our first real impression of the land down under. It'd also be neat to claim that we thoughtfully planned for our first night here - in a city that boasts a 'certain sophistication, cosmopolitan population, and exuberant nightlife' - as to duly insure that it include a sampling of all three. Well the truth is, much like a good portion of the rest of our trip, we really didn't plan things that carefully. It all just sort of fell into place. As soon as we'd thrown down our bags, it was probably no more than an hour ago, we'd phoned Kristen, an Aussie friend that we'd met in Greece and kept in touch with since.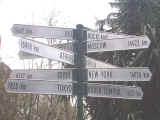 She immediately invited us along for a 'little night on the town'. And within a few quick clicks of the taxi meter, here we are - standing around one of those much-taller-than- it-is-wide, tiny circle of a cocktail tables, in one of Sydney's trendiest bars. The city's 'cosmopolitan population' are all here too. All the young, pretty people, here to see, and dressed and pressed to be seen. Kristen introduces us to her group of friends. A few native Australians and two couples from Texas (USA, of all places). We sip, chat, and sip some more. The hours just drift by. Everyone decides that a change of venue to a late night club is in order. This means that we soon have to bug out 'early' (around 2:30, feels like 4:30 for our New Zealand bodies) and leave our new friends boogying what's left of the night away.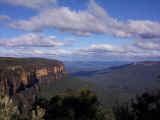 This, the next day, brings a self-tour of Sydney Harbor with its famous Opera House and Harbor Bridge, and then the historic Rocks district with its countless shops, pubs, restaurants, open air markets. Day three finds us strolling along through Bondi Beach, one of Australia's more famous stretches of sand, in search of a good cup of cappuccino. We follow that with dinner at a café overlooking magnificent Darling Harbor - its sparkling water ringed with the lights of the other restaurants, and encircled once again with the neon corporate logo topped skyscrapers. Our last day in the city actually brings us out of it, and into Homebush Bay to check out the 2000 Olympic venues, and finally out to the Blue Mountains for breath taking gorge views and our first interaction with Aussie wildlife (kangaroos and white cockatoos).
Melbourne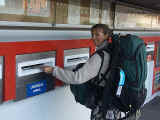 Flying into Melbourne for two days of what we've started to affectionately call 'maintenance time' means that we'll probably only have the chance to enjoy a small part of what this interesting city has to offer. It looks as though most of our daylight hours will most likely be spent uploading to the site, planning for our next few stops, renting a car, answering e-mail (the only fun part of our chores), shopping for toiletries, etc. It's about 3:00. Check, check, check, and check . . . that's the list. And now, after a whole day of that sort of fun, we've decided to make time for a short break. In just the last few hours we've managed to cram in a walk around the city, enjoy sunset dinner atop the Rialto Towers (Melbourne's tallest structure), and end our evening out with a tour of the Crown Casino and Hotel complex by the river.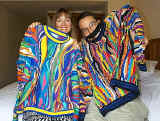 And as for today, we've spent our last morning here browsing through the vast, open-aired Queen Victoria Market. Its rows and rows of high-roof covered vendor stalls - selling everything from fish to fedoras, salami to sweaters. And yes, we've just given into temptation and nabbed a few Coogi sweaters (at half off), procured a pair of olive khaki's, and grabbed a handful of fruit for the day's drive. Whew, Melbourne maintenance time!

Great Ocean Road
It was almost exactly 33 years in the making, this scenic route 'of world class stature', built with intentions of rivaling California's Pacific Coast Highway. It stretches for about 170 miles through coastal southwest Victoria, from Torquay to Warrnambool. And, like the twisting, turning Pacific Coast Highway, it's not a pleasant undertaking for the faint at heart or weak of stomach. But hey, a case of white knuckles and a touch of motion sickness seem a small price to pay for access to some of Australia's most spectacular coastal views.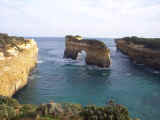 Our route offers up a full feast for the eyes. Not only appetizers - dramatic panoramas of dark, jagged, rock precipices, dropping abruptly hundreds of sheer feet into raging surf; but also full entrees - a host of rather unique and astonishing limestone 'sea sculptures'. Some these sea, salt and sand carvings are so unique that they have become rather well-known, and have thus, over the years, acquired somewhat curious names. Monikers such as 'The Twelve Apostles', 'Loch Ard Gorge', or 'London Bridge'.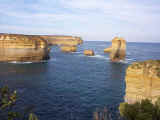 Sunset finds us standing along the cliff tops overlooking what is probably the most famous of these natural wonders, The Twelve Apostles. I can only imagine the awe and intrigue that these brooding and colossal sculptures most have stirred within the hearts and minds of the first group of seafaring men to approach them by sea. These huge freestanding columns of rock, some rising nearly 200 feet out of the surf, appear to stand at full attention, almost like they're guarding the coastline against invasion by some motley band of titan sea gods. Or maybe they're here to guard the shores from those very groups of approaching seafaring men. It's an odd notion, but if that's the case, The Twelve Apostles have done a rather commendable job.
Australian maritime records show that no less than 80 ships have met their early 'retirement' along these shores, sending hundreds to watery graves and earning this stretch of shoreline the undesirable handle of The Shipwreck Coast. It's funny to think that how, after only 150 years, this stretch of rugged coastline remains objectively the same, but has become subjectively so different. What was seen as horrific and menacing to those nineteenth century travelers, is now held as terrific and captivating to these twentieth century wanderers.