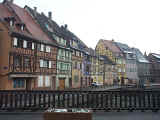 Dec. 9-12, 1998 Colmar, France
As a rule, I'm pretty good with direction, keeping my bearings, and finding my way in strange places. But there seemed to be something about Colmar that knocked out my internal compass. I'm not sure if it was the maze-like labyrinth of streets, alleys, and passageways, all that seemed to constantly turn one way, then another, never keeping in a straight line.

Or maybe it was the lack of rhyme or reason as these lanes crossed one another, more often than not at very strange angles. Or it could have been the fact that we can't walk more than a few feet in any given direction without turning left, or turning right to explore a new sight or spectacle. Or that, even when we do stand still, we turn in circles as we look up and all around us - staring at the patterns of the half-timber supports, ornate windows, or funky rooflines of the surrounding buildings. Whatever the reason, I find myself getting lost over and over again - both literally and figuratively - in this little postage-stamp-sized city.

It seemed as if someone is watching us with delight from above. Watching and mischievously rearranging the walls of this half-timbered life-sized maze, as we fumble our way through its passages. Each time that we plan to return to further explore a spot, shop window, or café menu that we have rushed past earlier, our efforts seem to uncover a host of new, undiscovered and fresh sights and sounds.
Or, or maybe it's that we let ourselves get 'lost'. Lost in the enchanted atmosphere of this pleasant little hamlet. Imagine a place that seems to be somewhere between the scene of an operetta and an area of a Disney theme park, and you have a mental picture of Colmar. The French definitely have a knack for being both elegant and comfy at the same time. This eastern French town of 65,000 is the epitome of this talent and is, if you will, very 'big for its size' when it comes to art, culture, and cuisine, and yet decidedly small and quaint with its friendliness and appearance.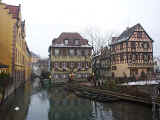 Colmar sits snack-dab in the middle of the famous Alsace district (known world-wide for its wines), just this side of Germany and Switzerland. The town's style of architecture, as a reflection of its people and its culture, is uniquely original. Its interesting style seems to stem from a deep confusion in the town's history, and thus, identity. The result is a mix of the best from all three of the nearby influences - French, German, and Swiss.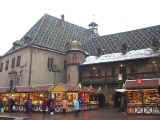 Often caught in the middle of the fiercest of territorial struggles, this small town has been pulled in opposite directions like a tiny rag doll for centuries. While one arm is tugged by the French who think the Rhine River is the proper natural border, the other arm is yanked just as hard by the Germans who feel just as strongly about the Vosges Mountains. Tossed in with the half-timbered chalets and fancy French townhouses, are the town's trademark ornate green and red tiled rooftops.
Ah yes, the green and red tiled rooftops. I seem to remember that it was then, upon seeing them for the first time, that I became convinced Colmar was built as the most perfect of venues for celebrating Christmas cheer. It simply had to be so, especially after dark.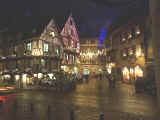 It is nightfall that has this enchanted holiday village truely come to life. The cobblestone streets brightly illuminated with tiny twinkling bulbs; the Christmas trees laden with big shiny ornaments; the garland lined windows adorned with lustrous bulbs, silky ribbons, and of course blinking lights. It may be my imagination, but the pastel colored plaster of the half-timbered houses seems to swell from the framing like soft ginger bread, just freshly plucked from the oven.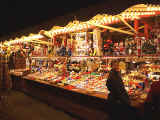 The little booths lined up in rows, each selling a different bit of holiday merriment, complete this festive scene. We lazily strolled by each one. Some with small toys. Others with crafts of every sort, hand-painted ornaments, or glistening bulbs. There was one that even offered a little tepid little refreshment to warm yours hands as well as your heart - vin chaum - a steaming concoction made mostly with red wine. Delicious!!