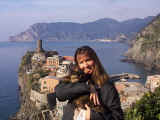 Jan. 24-27, 1999 Cinque Terre, Italy
We randomly select the seaside village of Varnanza for our first night's stay on this, the small section of the rugged Italian Riviera known as Cinque Terre. It's dusk on Sunday night as we traipse down the village's sloping main street (no cars or parking meters, just its widest thoroughfare), and down towards the 'il mare', or sea. We walk slowly and in a relaxed fashion, trying our best to 'fit in' with the local scene. I, possibly rather naively, like to think that we might just have a chance at getting away with it, if not for the giant canvas 'tortoise shells' protruding from our backsides and screaming "new-to-town tourist" to everyone within sight.
Then it happens. No more than three minutes from our leaving the station, we're nearly tackled to the ground. Not by a Falcon's linebacker, but by the Italian grandmother equivalent (but without the pads). "Chamber?" "Camera?" "Zimmer?" "Room?" she breathlessly inquires, as she tugs and tugs on my arm and pack. "No, no" we shake our heads, cautious of her quick and shamelessly direct approach. She won't give up, placing her palms together and resting them under her tilted her head, while briefly closing her eyes as if to sleep. Well, her tenacity, matched with her big, brown, anxious eyes finally do us in. We end up not only staying there that night, but we also leaving our bags for our venture to Riomaggiore, and then resting our weary heads there, once again, on our last night in town. Our hostess is welcoming, our room cozy, and our bed comfortable.
Not only are we treated to hot coffee each morning, but our safety is even guarded throughout the night (at no extra charge) by a large portrait of the Virgin Mary directly above our headboard. Our only difficulty comes while attempting to explain to our adoptive, non-English speaking grandmother, that we would like to leave for a day, but return to claim our luggage and stay another evening the following night. Imagine trying to get that through in 'charades-speak'! After a frustrating 20 minutes, I begrudgingly resort to the Italian Phase Finder book (the first word book we have tried since we left home) to write down what I want to explain to her. Well, she finally understands. I make a mental note to invest in a few more of these phrase books, for this one paid for itself with this brief exchange alone.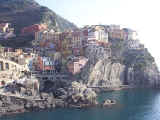 It is this kind of genuine hospitality from its residents, pleasingly paired with the region's dramatic and unspoiled beauty, that has put Cinque Terre in the top group of our 'favorite places to kick-back' list. Cinque Terre, meaning literally 'five lands', is just that. Rather than one place, it is a series of five villages, either perched high atop rocky outcrops, or tucked away within tiny inlets, hugging the craggy coast of the Italian Riviera. This Monday morning, we are pleased to have good fortune on our side, as Mother Nature blesses us with a wonderfully beautiful, sunny, and warm day to explore the other villages via the rugged coastal paths that separate them.
For the better part of the day, we hike both alongside and high above, the sheer cliffs dropping straight down into the sparkling, turquoise waters of the Mediterranean. The lush, natural vegetation claiming only the land which is too steep for the man-made dry-stone walls. The stone walls which hold up terraces filled with groves of olive trees or lines of grape vines. The trail leads us up, down, around, and through this severe terrain. It is rugged. It is peaceful.
A quick tour through Corniglia, a sandwich stop by the boat hoist at the harbor of Manarola, then on to Riomaggiore just in time to take in the parade of townspeople as they come out for their almost ritualistic pre-dinner stroll. Under the setting sun we watch them walk and talk, and then walk and talk a little more, all from the viewing perch of our small, rented-out bedroom with a balcony, high above the harbor.
Tuesday night finds us back in Vernazza. I look around at the three other couples dining with us this evening in Trattoria Incadase. Not a bad turn out for the middle of winter in this small, somewhat isolated village of 500 (even if this is the only restaurant open in town on this rather chilly winter night). We're finishing our delicious meals of pasta and local wine, when a patron at one of the other tables, throws a few well meaning Italian teases back towards the kitchen. This playful exchange convinces Piva, the restaurant's proprietor, to switch the stereo from American pop, to Italian folk. More specifically, HIS Italian folk. We are pleased to find that the cassette he plays is a recording of our very own host, accompanied by his long time friend and performance partner. We finish our meals to the vocals, guitar, and what sounds like a sort of ukulele, choreographed into a string of local folk ballads. The tape ends and Piva switches back to the radio. This immediately brings an avalanche of boos and hisses from our small, but boisterous group of brand new Piva fans.
Well, this is all the encouragement Piva needs, as he reaches for his guitar, then a chair, and plops down in the middle of his small dining room to entertain us, his fresh following of admirers. After the first two or three ballads, Piva takes a break, retreats to the kitchen, and returns with one glass of 'Sciachetra', the region's sweet, sherry-like wine, for each of us. We each take the chance to introduce ourselves. There is one other American couple from Mississippi, a pair from Germany, and finally a local bachelor and his Italian speaking date, who's all the way from Boston. The introductions and smattering of small talk help us all feel more comfortable with one another. So much so, that the Vernazza/Boston couple begins translating Piva's lyrics to us in English as he sings them in Italian. Songs about romance. Songs about summer. Songs about summer romance. None of the rest of us know Italian, but that doesn't stop us from loudly mimicking each refrain, along with Piva, as best we can, and then laughing hardly at our own sad efforts, at the end of each tune. I've been told that I can't carry a tune, not even in a bucket. Maybe not, but that won't stop me from carrying this night of lyrical memories with me forever.