Jan. 28-30 & Feb. 13-17, 1999 Venice, Italy
"Gondola? Gondola? Gondola Signore?" How could I resist? How could we forgo his invitation to partake in this most romantic of excursions, in this absolute fairytale of a city? Was it his flat brimmed straw hat, dressed round with a bright blue ribbon? Was it his broad smile and outstretched hand, presented with elegant Italian flare that silently promised us true and eternal 'amore' just for taking this leap of faith? After all it ours for the taking, simply by stepping into his sleek, shiny black gondola for a 'cruise round the neighborhood'. Whatever it was, it worked - we take our seats, side by side and hand in hand, and we're off, silently gliding through the tranquil canals of quite possibly the most magical city in the world - Venice, Italy.
Outside of the occasional 'attento' to warn possible oncoming boats of our approach around blind corners, it turns out that Roberto is in true Italian fashion, a man of few words. Other than his insightful "to tour Venice by the water is to see a very different city" about halfway through our trip, he is doing what he instinctively knows to be best - concentrating on rowing and letting the city speak for itself. We quickly find that we need to listen very, very carefully, for when Venice speaks, she only whispers. Her other name, 'La Serenissima' or the most serene, is best to describe her. She is beautiful. She is mysterious. She is unlike any other city on earth.
Her space divided into almost 120 'islands' separated by nearly 180 'streets' (or 'rios') filled with water. There are no malfunctioning mufflers, no hair-raising horns, and no maddening motor scooters, only boats navigating her ins and outs. In contrast to other cities, paved dry-ways play second fiddle to water high-ways.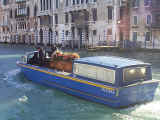 On this island, boats are THE way to go. Hulls and inboards replace wheels and axles on Venice's vehicles of transport. Everything from baby toys to caskets. Ambulances, delivery barges, police cruisers, and yes, even hearses share the waterways with gondolas and 'vaporetti' (public transit water buses) carrying passengers from one point to another on the main canals.
But the main canals are of little concern, as our tour of the peaceful Venetian 'side streets' continues. We take in the absolute placidity. We listen for the whispers. Nothing but the soft sound of the saltwater gently lapping against the sides of the gracefully aged, weather-worn buildings in our small wake. The shadows drape over the rooflines lining the canals, as easily as the day's laundry hangs from the cords across them. The once stately buildings seem to now lean against one another for strength and support, each appearing to tend toward one way or the other. The taller the structure, the more obvious its propensity for the tuggings of gravity, as it teeters over ever so slightly. There's no mistake, the charm of Venice lays not only in her many Renaissance and Gothic palazzi, but more so in their now off-square windows, tilting balconies, and in most cases, doors that scrape the floor halfway through their swing.

As if in unwritten law, each gracefully aging palazzi reserves its most elegant entranceway for the canal it faces. Salted docks dressed with brightly stripped pylons help passers-by ignore the gracefully aged, somewhat unkempt facades, all with random spreads of plaster that have fallen away, exposing the bricks underneath. It is as if each were actually built of thick posterboard ripped here and there to expose, from under the top layer of pastel coloring, the soft drab gray middle, and finally beneath that, the last layer of dark backing.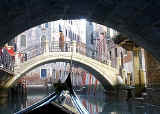 We silently stealth between these muted colored walls, left here, right there, our path sporadically covered by one of the 400 or so footbridges spanning the canals of the city. From the boat, the layout of Venice actually seems to border on the logical. Clearly, it was designed for floating - not walking, rolling, or others types of traffic. And, as Roberto said it would be, our impression from the waterways is much different that what is was when we were navigating (or more accurately attempting to navigate) this aqua-centric hamlet from its maze of narrow footpaths, alleys, and passageways - all above sea level.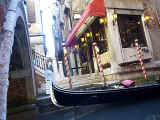 Well, all above sea level most of the time. It seems this fragile town is made even more vulnerable by its propensity to flood. "Ah yes, Acqua Alta (understatedly translated as 'high water') has come six times only since October" a shop keeper had explained to us earlier that morning. His stories now become more believable as our gondola cruise brings the kneecaps of those strolling the streets beside us, into the line of our sight. It suddenly occurs to me that the metal framing and planks of wood that we have seen piled up on corners throughout the city, were stacks of temporary 'elevated sidewalks' at the ready if the Acqua Alta puts the entire city under a few feet of water. Boy, that would tend to put a damper on the rest of our stay.
But for now, Mother Nature is showing her gentler side. No flooding tides, only sunshine that seems to peek, just as quickly as we do, into Venice's true maze of quirky twisting streets, dead-end alleyways, and little hidden courtyards and piazzas. Maybe it's the beams of sunshine that helps the tourists and locals to so harmoniously coexist; that allows the 'rosticceria', selling finger sandwiches and vino by the jug to the little old local ladies (when they bring in their own empty bottle for their daily allowance, it's under $2.00 per fill-up), to sit right next door to the glass shops and mask boutiques, geared almost exclusively to tourists (these exquisite glass works of art sell from $10's to $100,000's of dollars per hand-blown piece). Roberto interrupts that thought with: "And this is bridge they say Casanova walked across for one last look at Venice, on his way to that prison" he offers as he steers our long, shiny black craft quietly around one last corner.
Ah, Casanova. Oh, the canals. Ah, the gondolas. Oh, the palazzi. Ah, the serenity - 'datsa Venice.
Ah, Casanova, canals, gondolas, palazzi, serenity, and Venice - 'dats amore!