Feb. 6-10, 1999 Prague, Czech Republic
Just outside our train window, the strong icy wind savagely whips the drifting snow flakes so as they fly nearly parallel to the ground, only eventually adding to the accumulation already covering the rolling white fields that stretch out just before us. The gentle rolling of the stark-white passing landscape is only occasionally broken by intruding bands of dark, scraggly trees. Standing valiantly, the exposed, unprotected windward side of their trunks take a constant battering, as the flying snow hits hard enough to stick to their entire lengths. I strain to see as far as 250 yards from the train. After that, everything just fades into a light gray shade of nothingness. No landscape, no sky, only a fuzzy abyss of non-colored emptiness. Welcome to the wilderness of the Czech Republic in grip of a wintry February.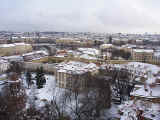 The scene the next morning is, thankfully, much less dramatic. We wake to an soft and invitingly gentle snowfall. Our child-like excitement brings us out and about rather early on this peaceful Sunday morning, so we have the streets of Prague's old town almost all to ourselves. Our explorations often leave the first, of what are sure to be many, tracks in the glistening white virgin snow.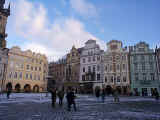 The giant flakes lazily drift to the ground around us as we stand quietly, glove in glove, in the middle of historic Staromestske namesti, or Old Town Square. We're ankle deep in powder and surrounded by snow-frosted facades of the century old townhomes, and limestone archways capped with pointy spirals of the ancient hallowed churches and towers. I have the feeling of being two tiny figurines inside a one of those little glass domes filled with 'snow flakes' just after it has been gently shaken.

If nothing else, Prague is certainly beautiful. Often referred to as a 'baroque Disneyland', its fairytale appearance owes as much to what has been preserved, as what was built in the first place. Unlike her less fortunate neighbors (Berlin, Budapest, and Warsaw among others), Prague had the good fortune and luck of being one of the few capital cities in Europe to remain practically unscathed following the devastation of WW II. In fact, it seems this picturesque town has a talent for surviving, and often thriving through transition. Countless invasions from neighboring countries, internal changes in politics and shifting religious beliefs, division of territory and retracing of borders, and now the latest 'revolution' to rock her aged-old foundations - conversion to capitalism.
In Prague it is pure, it is unfettered, it is both an invisible force, as well as (more often) an in-your-face aspect of this changing city. The rapid shift to capitalism is kind to some and cruel to others. It can be comfortable as an old pair of shoes, or as unnatural as a first pair of roller skates. It gives many new hopes for the future to some, yet leaves others yearning for the past.
One of the city's fastest growing industry segments is that of tourism. Feeding, bedding, providing knick-knacks, and/or otherwise entertaining visitors from both the East and the West can be a very rewarding proposition. And one of the more creative ideas that we've found to carve out a living from the proverbial pockets of the visiting masses was to, get this, guide good old fashioned pub crawls. 'Real beer, real pubs, real people, real Prague' the tiny yellow flier promised. We figured that, most likely, there was an extremely creative entrepreneur behind this very creative flier, so, 'purely for the sake of research', we show up at Old Town Bridge at 5:00 sharp as instructed.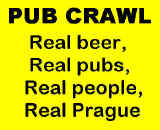 As luck would have it, Laura and I are the only two takers this night. This means that we have the undivided time of our new 'Pub Guide', Lubos, all to ourselves. We soon find that it isn't the interesting little pubs, or for that matter even the beer (although Czech beer is some of the best in the world, Pilsner was born here) that peaks our interests, and captivates our attentions. It's the story of Lubos Kuklik - scrapping, strapping entrepreneur at large - and his tales of growing up under socialism; suddenly being thrown into one of the free world's centers of capitalism (New York); and then returning to a rapidly transforming anything goes burgeoning capitalist city, to try and apply his new found make-a-buck knowledge, skills, and talents, that has us most intrigued.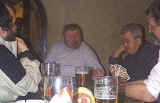 In the old days under socialism, Lubos was working for one of his town's larger companies as a computer engineer. Sounds promising so far right? Well, there was only one teeny tiny little problem - the firm he was working for didn't have any computers, not yet anyway. So what jokingly sounds to most like the perfect job (work an hour or two, goof-off a lot with your buddies, and occasionally, even pound back a few brewski's - all on the clock), got old and boring pretty fast. Lubos finally decided to quit. Again, only one teensy-weesny little problem - under the old system, it was illegal not to have a job.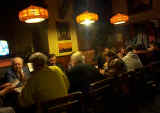 And if, for some strange reason, a worker wanted to quit, he was required to file the proper paperwork and wait for six weeks or so for it to be approved (on the flip side, it was even harder to get fired). Under socialism the folks who really had the good life were the butchers and produce managers. The richest men in town (due in most part to all the 'tips' they received for the best cuts of meat, vegetables, etc.), they most often displayed their wealth by driving their version of a fancy foreign car, a Ford Escort. In those days, everything was done through barter and kickbacks. Was your drain leaking? Either have it fixed for free by calling and waiting for nine weeks till they 'got to you', or simply track down the local plumber in person and 'encourage' him to fix your pipes with a little extra 'incentive'.
All of the payoffs, kickbacks, and bureaucracy got to be a tad too much for Lubos, who basically simply dropped out of the system, and lived in the woods for a few months before making a big break and coming to the U.S.. The next few years were spent getting his degree in capitalism 101 from the school of hard knocks in New York City.

Now, armed with a little experience and a lot of drive, Lubos is fighting the odds and providing a decent living for himself, his wife and child in Prauge. He uses his American connections to bring curious Americans to Prauge, and occasionally vise-versa. On a more regular basis, he hosts these pub crawls. With sometimes as many as 18-20 tourists joining him, and other times as few as 2, his paycheck at the end of the night varies widely. Nonetheless, he dreams of growing the business to support a handful of guides and someday maybe even a manger.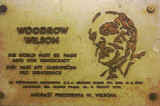 He tells us that the biggest difference between Czech and the U.S. is just an overall feeling and attitude. Although it's slowly changing, he explains, "the attitude in Czech is that you can't do it, that it just can't be done, whatever the 'it' may be. Unlike in the U.S. where most people are surrounded by success and happiness, and grow up with the idea that almost anything is possible with a little hard work, the consensus in Czech is to just go day by day and do enough to survive. That nothing really makes a difference". I ask if he's happy, living where he's living, and doing what he's doing. "Yes, I am. But, some of the happiest people on earth should be those living in America. That a lot of them aren't [happy], really puzzles me ". "It puzzles me too" I tell him as I shake my head, finish my last sip of Gambrinus Pilsner, count my blessings, and call it a night.