Feb. 1-6, 1999 Budapest, Hungary
We arrived in Budapest without really knowing what to expect. And . . . it's times like these that probably lend themselves best to pleasant surprises. We knew there would be the interesting sights - parks, monuments, great buildings and the like. We knew there would be engaging people - those who had lived through the embracing from, and then rejection of, communism. We knew that Budapest, like its other Euro capital counterparts, would delight us for our five short days, and then most likely leave us wanting more.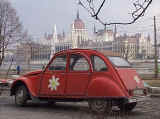 But what's the part of Budapest - the best part of Budapest that we happily discovered, yet never expected? It has to be the city's offering of succulent dishes and delectable wines. Laura and I must have been living under rocks, because is seems that gastronomic connoisseurs worldwide have been touting the praises of Hungarian cuisine and its fermented grape for some time, most claiming it to be among the tastiest in Europe. 'Who'd a thunk it?' We certainly were never warned beforehand that our stay would be highlighted by such delectable dining delights. And what better way to compliment that succulent dish, than the perfect glass of wine. Top it all with our absolute favorite part about dining in Budapest, the small bills at the end of the meal, and what more could a Hungary (sorry, hungry) duo of travelers ask for?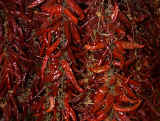 And another odd twist to the whole picture? The one essential and common ingredient in almost all Budapest dishes is paprika. Well, nothing odd about that. No, the funny thing is that what is now by far the most widely used spice in Hungarian cooking, wasn't to be found anywhere in Hungary until 300 years ago. That's when Christopher Columbus found the American Indians using it and brought it back to Spain, its use spread from there. Small world, huh?
So much for surprises and twists, on to the main course. First stop - let's see what's on the menu at Fafel, one of the city's newest and most popular dining spots (and best of all, temptingly located just one block from our apartment). It was so enjoyable, that we 'had' to go back a few times. I tried the Turkey a la 'Bakony' - Hungarian noodles (what we might call tiny, tiny dumplings) topped with slices of grilled turkey and smothered with a rich, creamy mushroom sauce. Sound good? this huge plate of food set us back a whopping $4.50 USD! Laura followed up with the Spicy Pork Szeged Style - hunks of melt-in-your-mouth fatty pork baked on a bed of red onions, small Hungarian noodles, and of course, paprika. We were braced for that $3.65 bill. On our second visit, Laura was in the mood to really 'pig' out with the Leg of Pork Baker's Style - chunks of pork pan fried with slivers of white onions, red and green peppers, and cubes of potatoes, its juices still steaming as it's served up in a skillet. Less than $5.00. I was ready for something a little different, and decided on the Potato Casserole - layers of thinly sliced potato, 'kolbase' (Hungarian sausage), boiled eggs, and cheese, all topped with sour cream, tomato and slices of hot pepper, served in the same clay pot it's baked in. All for an outrageously expensive $3.50.

Still feeling full from one of our dinners, we ducked into Hosten Sorozoben the next day for brunch. And not just any brunch, a brunch buffet. Oh, where to begin? We start with the dish the Hungarian's are best known for, that's right - Gulyas (goulasch)!! This soup was the real thing, a thick hearty meat broth made with beef, potatoes, vegetables, onions, tiny dumplings, and seasoned with a very generous amount of paprika. Aside from the assorted salads and wide selection of fresh fruits tossed about here and there to distract our attention, our hosts really spoiled us with the tender Paprika Chicken falling off the bone and bathed in a scrumptious, thick paprika sauce, its flavor left untarnished by an underlying piling of small Hungarian noodles.
And then there was the tasty, lean strips of veal, simmered with, and now drowning in, a savory white wine mushroom cream sauce. Rounding out the trio were the yummy cabbage leaves stuffed with a delicate mixture of herbs and Hungarian spices mixed with minced pork, and cooked until its tender enough to eat with just a fork. After all this, we really didn't have room, but our waiter talked us into some apricot brandy rollup cake and coffee for desert. We broke the bank with this feast at $7.00 each for our meals, drinks and tip.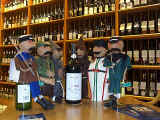 Our search for a little 'fermented nectar of the grape' to wash all this great grub down with didn't take us far. Hungary has 22 distinct growing regions, each producing a unique end result. Unfortunately, knowing they all boasted an alcohol level twice that of our wines at home, and hoping to stay sober at least part of the five days of our visit, we didn't have time to try all 22, But if the ones we missed, were as tasty as the ones we sampled - then long live Hungary! We tried the reds, we tried the whites, we even indulged ourselves in the many desert wines. The one that stood out for me was tabbed with the curious moniker of 'Bull's Blood'. No, there's no actual blood in the bottle, just a blend of three different grapes, and an odd name for a very rich, full, and smooth red wine. In fact, it's some of the best I've ever had - and that's no bull.