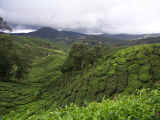 July 6-18, 1999 Cameron & Langkawi, Malaysia
Cameron Highlands
Owff, my tummy's still feeling a bit squeamish. And turn after turn of this bus isn't helping things much. To top it all off, the little Indian guy in front of me just redeposited his lunch (now more in the form of a chunky soup, than a sandwich) right back into the same pink plastic bag that he boarded with, about thirty or so miles back up the mountain.
But, as usual, I've only got myself to blame. After spending a perfectly pleasant afternoon seeing a handful of the Highland's sights, (tea factory, butterfly farm, Buddhist temple, etc.) I just had to go and try the local specialty, this thing called a 'steamboat', for dinner last night. 'This'll be fun' we thought. I mean, from what we understood, it was sort of a Malay version of the Swiss' fondue.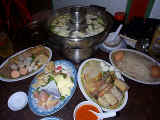 Well, not exactly. The dish is a boiling pot of broth atop a burner. It's accompanied by raw noodles and an assortment of raw 'delicacies' all chopped up and ready to cook in the mix. Three, count 'em three, dishes of wonderfully yummy treats. Delicacies such as processed fish balls, prawn paste balls, cuttlefish (squid), mussels, clear seaweed, fish, crow eggs, and pork skins among others. As is often the case, Laura, displays much more common sense than I, and plops down her chopsticks (after only a few loads of noodles and three of four shrimp) to declare: "That's it, it's chicken satay from that little place across the street for me." Turns out that her decision was a good one, as she seems to be feeling fine, while I on the other hand . . .
Langkawi Island

After spending the majority of the last four days either sitting on the 'porcelain throne', or curled up tightly in a fetal position (almost always withering stomach pain and eating little more than white rice and soup broth), it seems that I'm FINALLY starting to get my strength and desire for food back. Perfect timing too, because it's just this morning that we've arrived by ferry to the Malaysian tropical paradise of Langkawi Island. Now here I sit, feeling worlds better and pounding away at my trusty Libretto keyboard, all the while being newly inspired by the constant, fuzzy roar of the waves crashing on the rocks just below our balcony. And atop this background rhythm, the chirping crickets, twittering birds, and an occasional puttering old fishing boat on its way back in from a day's worth of trolling, lay down for me a strikingly moving melody.
They tell us that the pounding surf is fed by a constant ocean breeze from the east. They also say that it's this same breeze that always carries the island's weather. Weather that, during this time of year, changes almost every few hours. Rain, then sunshine, then rain again, all throughout the day. Although it makes it a bit of a challenge to build that 'savage tan', it's this drenching rain that keeps the island so very green, so lushly tropical. It's this rain that feeds the dense foliage, covering everything on Langkawi. Exotic plants and flowers abound. Jungle wildlife prospers.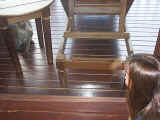 Wildlife of all sorts, from hornbill birds to flying fox squirrels; from spitting cobras to mischievous monkeys. And it looks like, from their twice-a-day visits to our porch, that the monkeys are the ones that we'll get to know the best. So far we're off to a quick start, as Laura builds up a fast friendship with the playful little primates, by sitting on the floor next to the glass doors of our patio, and mimicking their social shenanigans by bouncing her head up and down and making faces at them. I wonder if they find her unusual pantomime as amusing as I do?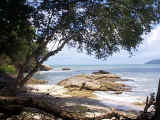 We spend our second and third day here, exploring some of the other areas of this delightfully relaxing island. The pristine sands of the island's foliage-engulfed and practically deserted beaches; the wading pools of its roaring, and now rain-swelled falls; and the pathways of its quaint and curious fishing villages; are all marvelous highlights of our random exploring. And not to mention the island's people.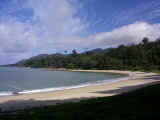 Here, long before the beginnings of the tourist trade, it's the island's farmers who spread out to make their homes of tidy houses of weathered wood, crowned with corrugated tin roofs, and perched atop skinny stilts (hopefully high enough to avoid the ravage of typhoon season flood waters). And it's the island's fishermen who grouped themselves together into rows of hodge-podge little shacks, lining the mouths of inlets or river beds, each with the owner's junket tethered securely to a makeshift dock.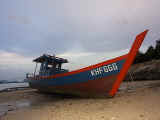 Tethers that now fall slack and useless, as the tide recesses, leaving each craft moored in the muddy river bottom, tilting over to one side or the other along its hand-crafted keel. And of course these days, there's also the island's shop keepers and restaurateurs, each usually living above or behind his open-aired emporium or dining area, supplying souvenirs or serving customers with fresh local seafood, spiced up with a dose of genuine enthusiasm and friendliness.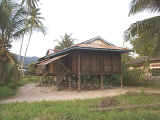 It's at one such place, about a two mile walk from our hotel, that we've managed to become temporary 'regulars'. "Hello, hello, hello friends" Chef Wong calls out as he sees us approach down the gravel drive. "Come, come, come. Good table for you" he motions with his arms, pointing to one of a half dozen plastic patio table and chair sets spread out across the muddy plot in front of his outdoor 'kitchen'. Laura leans over the ice filled seafood chest, and with his help, picks out a few delicacies for our dining, including what are soon to be delicately grilled prawns and carefully barbecued fish. "And two beer, yes?" he adds with a smile. It's after yet another delicious meal that we ask for our bill. "No, no, you wait. You wait, O.K.? Two more beer, I buy, you wait O.K.?" "Sure" we shrug. And within five minutes, Chef Wong has finished cooking for his other customers and pulled up a chair at our table, his own beer in hand, seemingly ready to chat a bit.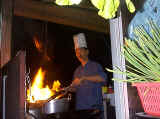 Family, work, entrepreneurship, politics, and religion - all subjects of discussion as the beers keep coming and coming. It's eventually time to say goodnight to our new friend Chef Wong. I tell him that "when we come back to Langkawi in five years, or maybe even ten, when Chef Wong's The Fresh Seafood Garden has three dining halls and a staff of 40, I hope you remember your 'regulars' from Atlanta, U.S.A., and give us one of your 'good tables'." "Yes, yes, yes my friend." he says with a grin. "And next time, we'll sit and catch up, you promise to let me buy the beer, O.K.?" "Yes, yes, yes my friend" he says with a smile.