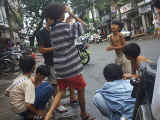 July 28 - Aug 1, 1999 Ho Chi Minh City, Vietnam
Occasionally, our wanderings have found us crossing paths with other English speaking travelers. When this happens, we invariably end up comparing notes on all of the wacky, fun, weird, and even exceptionally enjoyable destinations that we've each experienced in our travels. In these exchanges, there's one destination that would consistently receive rave reviews from seasoned road warriors. And unfortunately, it was a locale that was conspicuously missing from our itinerary. We'd hear things like: "It's the people in Vietnam, they're just so friendly" or "It's got to be one of the most beautiful countries in Asia" over and over again. So, after deciding to postpone for a future trip a venture into mainland China, Vietnam seemed like the natural alternative. We'd planed to 'fly solo' and explore the country on our own, but when we shopped around in Hong Kong and found a package deal with air and lodging for less than the price of the air alone, we decided to go for it.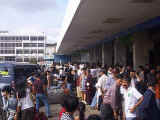 And now here we are, the bump of our plane touching down, signaling our arrival in yet another wondrous country; the disembarkation call over the PA, necessitating our learning of what we now call 'the basic five' (hello, thank you, yes, no, and cheers) in yet another foreign language; and our inevitable, (and now routine) first stop at a cash machine, requiring one more soon-to-be-forgotten formula for calculating 'their money vs. our dollar' prices for everything. But, on the other side of the coin, because we've on a package tour, there's a lot that we won't have to worry about over the next few days. Time-drainers like finding a decent hotel, worrying about what and where to eat, or ground transportation and transfers to and from the airport, to name just a few.
A few minutes pass before a guide appears, corals Laura and I together with the six others in the crowd who are sporting 'Sunshine Tours' stickers on their chests, and leads us, luggage in tow, through the rain, across the parking lot and into a waiting van. At first I'm curious why one of the other tourists in our group is translating everything the guide is saying into English for us. "Oh, this is a Chinese tour" she explains, "they didn't tell you that when you booked it?" "Uh, no. She throws a few phrases towards the front of the van. Our guide responds. "Nope, he is multi-lingual, but very little English, only Vietnamese and the Chinese dialect of Mandarin." "Oh, really?" should make for an interesting five days, I think to myself.
It's the beginning of day two. Our guide seems to be doing a great job so far, but I still get the feeling that this whole tourism thing is still a little bit new to most of the folks here in Vietnam. Understandably so I guess, the country just opened itself to outside investors and tourists in late 1989. And it was only shortly before that, in 1986, that the government reintroduced limited private enterprise. I get the feeling that the Vietnam of 1999 is a country still in the midst of transition.
While the younger children preserve tradition by dressing in their munchkin-sized communist party uniforms, complete with blue kerchiefs around their necks, and parade off to nightly party 'education' sessions, the slightly older set spends their nights satisfying their addiction to MTV, the worldwide electronic icon of capitalism and democracy. And while a handful of entrepreneurs struggle to successfully navigate their small businesses through the challenges and perils of a free market economy, the majority of the work force is finding just as much difficulty in adjusting from decades under the pure socialist system - a system that meant getting paid the same fixed wage, no matter how much or how little they worked.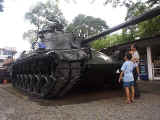 Our first stop of the day, in the center of Ho Chi Minh City, is the Vietnam War Museum (until rather recently known as 'The Museum of American War Crimes'). War is never pretty, and invariably there are atrocities committed on both sides of any conflict. But, these exhibits highlight only those committed by 'our side' against the Viet Cong soldiers, suspected agents, and sadly, sometimes civilians. We walk through room after room of graphically documented brutalities, captured in black and white, and mostly by American journalists. I'm not sure whether it's the huge print of our soldiers posing for a souvenir photo by holding the heads of the Viet Cong they had just decapitated, or the row of larger than life sized portraits of children mangled with grotesque birth defects reportedly caused by the spraying of Agent Orange, that's put the bigger knot in my stomach.
But I do know that never in my life have I ever wanted to be more invisible, less conspicuous. With lump in my throat and jello-like knees, I stagger out to the Museum's gift shop and ironically find it filled with, among other things, Mickey Mouse placards and Coca-Cola trinkets, two of the best known symbols of modern American culture and values. The only things we're left with, as we walk back to the main entrance and past the courtyards full of the American tools of war (including bombs, planes, helicopters, flame-throwing and conventional tanks), are questions. Why? How?
With our heads and hearts still spinning, we're invited into a small room lined with musical instruments, and filled with chairs and people. On the small stage towards the front, a woman warms up on a single-stringed instrument laying horizontally in front of her. She's soon joined by two others, and they jump into a suite of peaceful, melodic tunes. Their music soothes and comforts. After the performance, our guide tells us (via translation) that that's the concert's exact purpose, to calm and relax the museum's visitors after such a gut-wrenching experience. He tells us that the music room was planned as our last stop, a quick interlude to help us mentally escape the sometimes horrific past, and return to the hopefully promising present. Return back to the peaceful and friendly Vietnam of today.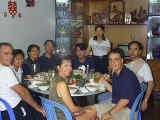 Peaceful, friendly, and wet that is. Our two hour drive along Highway 1 (there's no 2, 3, or 4, only a 1) towards the coastal town of Vung Tau City, is made mostly in the rain, as the southwestern monsoons blow in, bringing with them the season's warm, wet weather. But tonight, the rains continue almost unnoticed as we sit in a nice dry dining room and cap off our day with a fabulous seafood dinner.

We spend this, the morning of our third day, exploring the beach and surrounding town. It's not long before we experience first hand what so many people had told us about Vietnam, that "a smile goes a long way". A quick smile to each person that we meet, brings the instant return of a toothy grin. It's funny, but everyone we encounter here seems so easy going, so laid back. I wonder if it's just their nature, a result of generations of a 'take-it-easy' chromizone in their genes, or the fact that the customary Vietnamese dress closely resembles what we might call pajamas, and the chair of choice in most of the homes, restaurants, and night spots is a what we call a lounge chair. Whatever the reason, the people here are wonderfully relaxed and friendly.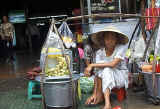 Days four and five find us back in Ho Chi Minh City. Where, after wandering around a bit and window shopping, Laura takes a liking to the women's version of the customary Vietnamese dress, called an 'au dai', and decides to have one made of silver silk for the bargain price of $25. (Usually crafted of silk, the au dai is a close fitting top with long draping panels in the back and front, and a pair of loose fitting pants to wear underneath). The shop delivers this beautifully exquisite piece of apparel, and Laura tries it on. And sure enough, she looks as comfortable as if she were in a pair of elegant pajamas. It really suits her. Hum, maybe we should buy a whole closet full of them for her. And perhaps can take this lesson from the Vietnamese a bit further and also refurnish our house - - with lounge chairs.