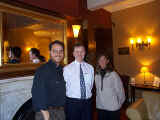 Nov. 27-29, 1998 Bangor, Northern Ireland
It was the stained glass that mimicked designs by the famous Irish art deco designer Charles Renee MacIntosh that had us first pop in as we walked past The Royal Hotel on our way back into the center of town. But it was the friendly manger and the prospect of enjoying 'High Tea' that brought us back to this seaside inn.
It doesn't take long for me to grow appreciative of the locals' version of the long-time British custom of high-tea. Demonstrating the Bangor twist on this traditional afternoon activity, are three older gentlemen sitting in the opposite corner. Rather than little tea cups, they each have a tall pint glass of dark Guinness companioned by elegant snifters of whiskey. I wonder to myself if this is a daily, or just a once-a-week-on-Friday, type of ritual for these three close friends.
I continue to ponder that question as we sit in the wood paneled Library Bar. The flickering fire invites us to sit inside for a bit and enjoy our tea, and at the same time, the late afternoon sun fights through the clouds and beckons us to do just the opposite and walk about the streets and explore the town. Decisions, decisions.
And to speak of decisions, it appears that one of Laura's better ones was to hop the train and head to this pleasant little coastal town. We feel immediately at home here, as we find the town's residents warm, friendly, and very Irish. In fact, Bangor holds the distinctive honor of 'friendliest stop' so far. We're basing the criteria upon the amount of time that passes before someone we don't know (and someone who isn't asking for money or offering to sell us something) offers us a friendly 'hello' just for the heck of it. In some cities, this doesn't happen at all, but in Bangor, it was a complete stranger, just passing us on the street, who bid us a cheerful "'eello dare" within no more than three minutes of our leaving the train station. It turned out that this was only the beginning, as we had another large (and welcomed) dose of Bangor hospitality that evening.
After dinner, Laura and I headed to one of the local watering holes. No sooner had the head on our ales settled just enough to start drinking them, that we struck up a conversation with a few of our bar mates. It wasn't long before they were buying us drinks (yes, in the plural sense). More ales, Irish coffees, etc. After a few hours of protesting, they finally broke down and let me pay for one round, but only one. We drank and talked, and drank and talked. From travel tips to politics (a touchy subject in Northern Ireland), we had a great time and lots of laughs. It's been said that on your first night in an Irish pub, you're a guest, and on your second night, you're a regular. Well, if you have the luck o' the Irish on your side the way we did, your new found friends will make you feel like a regular in half that time, just midway through the first night.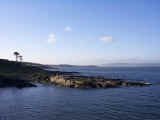 Due in most part to our recovery process, the following day was substantially more tame, with walks on the ocean side rather than the wild side, filling most of our schedule. The air was crisp and cool as we walked for miles along the twisting coastline, simply taking in the splendor of our surroundings. For long stretches at a time, it was only me, Laura, and a few birds sharing the crashing waves and gusting breezes of Northern Ireland's inner coast.
The scene changed dramatically as pangs of hunger drove us back towards main street. We dodged in and out of the single-minded townspeople bustling about the streets with Christmas shopping duties first and foremost on their minds. It was over lunch that it really started to hit me. Christmas would be very different this year. Thousands of miles from friends and family, it would be very different for sure.